Ellis County Outdoor Kitchen Installation
There is something special about going outside and firing up the grill. And if you love spending hours at barbecues, there's nothing quite like having a well-designed outdoor kitchen. Turn your backyard into an exciting space where you can cook, relax and entertain your friends and family.
Looking for Ellis County outdoor kitchen contractors who specialize in custom outdoor kitchens and BBQ islands? Ready to add some versatility to your backyard? The joy of having an outdoor kitchen in your own backyard is unmatched. Whether you need a small BBQ island or full-fledged cooking space to take your backyard or swimming pool area to the next level, get the kind of help you have been searching for. Call Splash Pools at 844-977-5274 today to begin planning and designing the outdoor kitchen of your dreams.
At Splash Pools, we have several years of experience in design and construction of custom outdoor kitchens for homeowners in the Ellis County area. When it comes to creating these amazing outdoor spaces, our talented and detail oriented team offers end to end services including designing, planning and construction.
Our Ellis County outdoor kitchen builders will help you create an inviting space that is designed and constructed just the way you want. We can design the right size cookout space that complements your lifestyle, aesthetic sense and your budget. Whether it is a compact set-up for a limited space or a fully functional outdoor kitchen that is equipped with a variety of features such as built-in grills, fireplaces and custom-built pizza ovens, we have the team to make it happen.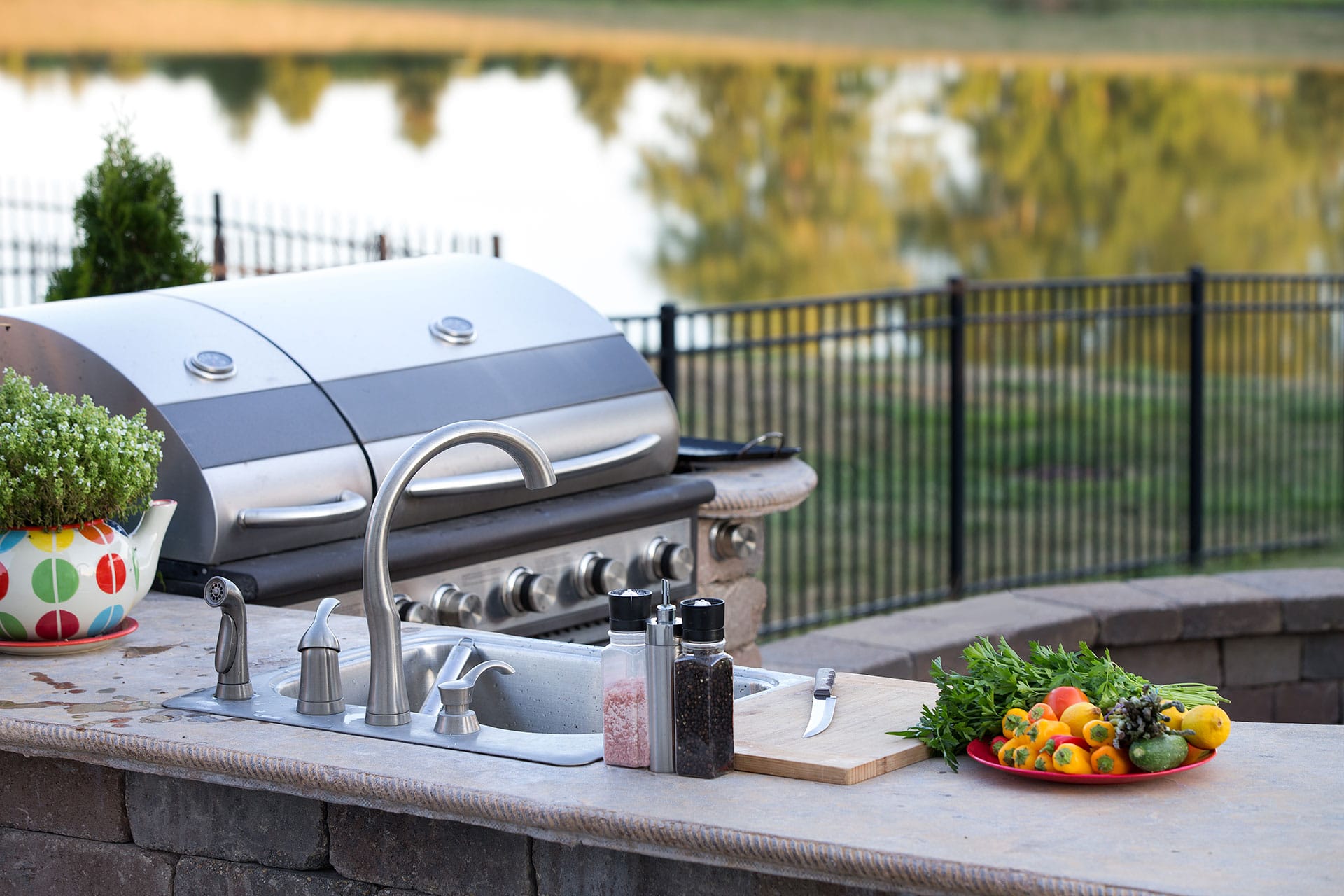 Leading outdoor kitchen contractor in Ellis County
At Splash Pools, we have the experience and technical capabilities to make your outdoor kitchen experience fulfilling and enjoyable. We are an expert Ellis County outdoor kitchen installation company, and take utmost pride in providing exceptional workmanship. We listen to your ideas and work diligently to incorporate them into our plans.
There are a lot of factors to consider when you are designing and planning your kitchen such as the size, shape, location and the amount of storage space you want in your outdoor kitchen. You also want to make sure you are choosing the right appliances and products that must meet your cooking and space requirements. Confused whether you want a grill or a built-in barbeque for that elegant, luxurious feel? Our Ellis County outdoor kitchen builders will help you select the best cooking options that range from built-in grills, firepits or outdoor ovens.
Our team of Ellis County outdoor kitchen contractors will assist you every step of the way, such as helping you decide the right shape and size, layout, material and design for your kitchen. We will also help you choose the perfect features like the right cooking and gas equipment, grills and barbeques, countertops, lighting and storage cabinets that are rated for outdoor use. It's our promise to give you an expertly constructed outdoor kitchen that meets and even exceeds your expectations. 
Our outdoor kitchen services include:
Outdoor kitchen design layout (straight, L shaped, U-shaped, etc.)

Outdoor kitchen construction

Built-in outdoor grills and BBQ's

Outdoor countertops and kitchen cabinets

Custom outdoor stone work

Firepits

Outdoor fireplaces

Outdoor appliances

Outdoor bar with sinks

LED Lighting and electrical outlets
Splash Pools can help you transform your outdoor space into a stunning 'cooking and entertainment' zone. Our team will not only help you create a luxurious outdoor kitchen but also ensure that it is highly functional, constructed using high quality materials and totally customized to your individual taste. Call us at 844-977-5274 today!