You've been dreaming about it for years, and now you're finally able to move forward with your goal of planning a new pool build.
Having your own pool in Dallas, TX, is a fantastic experience: you get to swim whenever you want from your home's comfort and privacy. Your home is now a prime spot to entertain family and friends. You have a whole new way to boost your fitness routine and improve your quality of life.
Choosing to install an in-ground pool on your Dallas property isn't a decision to take lightly. But once you've given yourself the green light, the next step is to start planning your pool installation. It's not as simple as digging a hole and filling it with water (we wish!). 
There are several smaller, more complex steps involved, from choosing a size to finding the perfect spot on your land to identifying potential challenges that may stand between you and your dream pool. 
Let's review some of the most important considerations you'll need to factor in when planning a new pool build (and remember ― we're here to help):
Verify Any Easements on Your Property
By definition, an easement is a legal right to use someone else's land with restrictions. If you don't own the property you want to use for your new pool, you may not install a pool without the real land owner's permission. You should verify the existence of any easements on your property with your local city or county clerk's office.
Stand in the area where you're considering installing your pool and look skyward. If any wires are running overhead (electrical or other utilities), you may not be able to put your pool there unless you can have these wires rerouted at your own expense. Otherwise, you could be risking your safety and others' safety if those wires were ever to fall (e.g., due to storm damage).
Check for Underground Utilities
Installing an inground pool requires a lot of digging, and the presence of underground utilities can pose a serious problem. Lines for sewer, water, gas, electricity, or telecommunications may need to be rerouted before putting in a pool.
You can check with local agencies to determine where your home's underground utilities are. In addition, you may also need to remove existing sprinkler systems before digging the pool foundation.
Identify Nearby Bodies of Water
Pools cannot be installed within 100 feet of other bodies of water, such as rivers, lakes, or oceans, so it's essential to find out if there are any near you. This is because the water table may be too high to accommodate an in-ground swimming pool. You can get on Google maps to get an overview of your neighborhood and identify any potential problems caused by nearby bodies of water.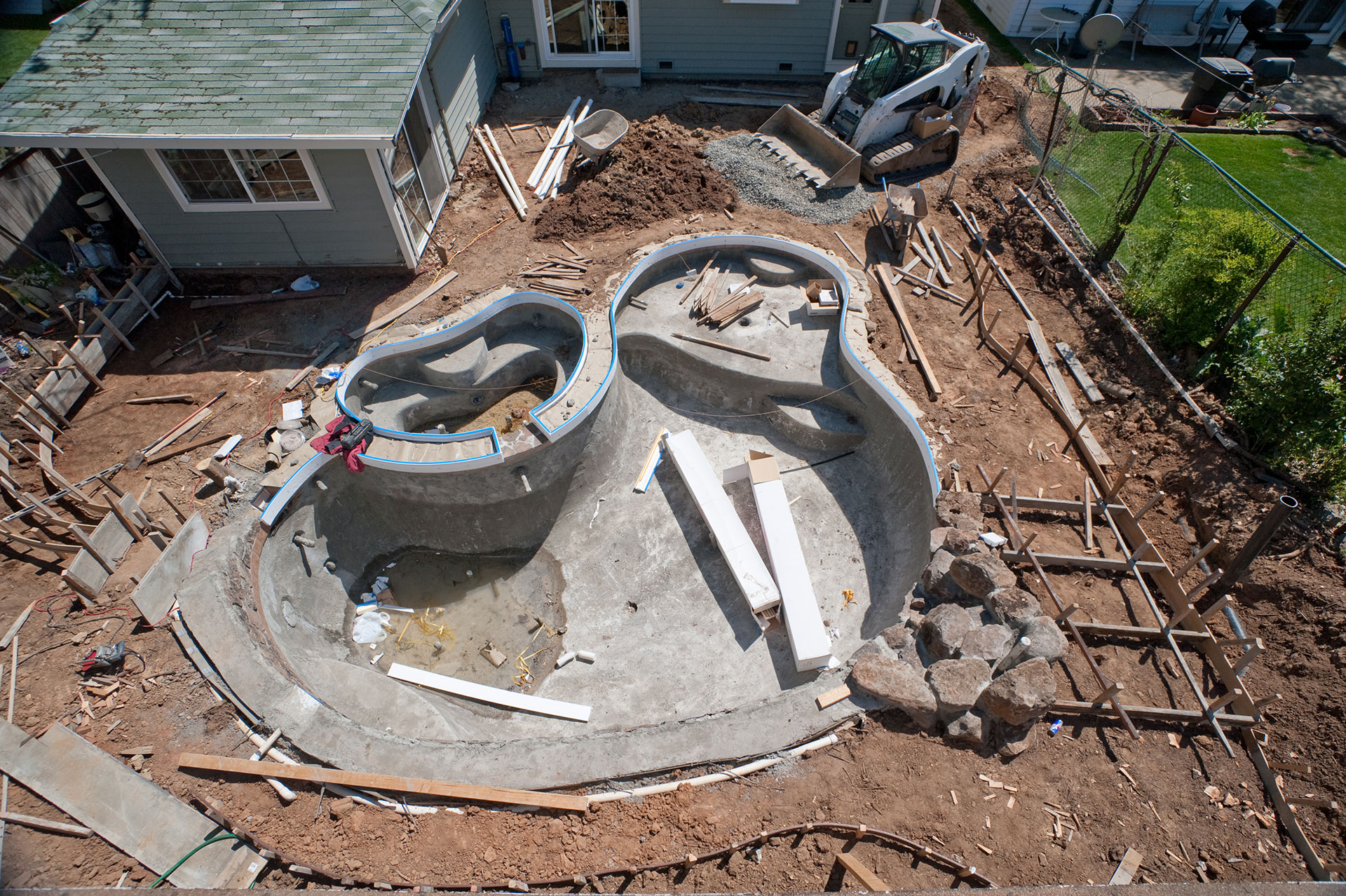 Consider Your Existing Terrain
Inground pools require a relatively flat land area. If your property isn't level, you'll need to factor in grading the land or adding retaining walls, which can add thousands of dollars to the overall pool project. This is a necessary part of the process, especially if you don't want your pool affecting your neighbor's property (yes, this can happen!). 
Changing your existing terrain isn't always a deal-breaker, depending on how much you want to spend to get your new pool. But keep in mind that not only will land preparation add to the bottom-line cost, it will also increase your overall project timeline.
Check Your Local Setback Requirements
The setback is the amount of space between your pool and your property line. Local requirements prevent your pool from abutting the property line directly. These setback requirements can affect the size of the pool you can install in your space, so make sure you check what these requirements are before moving forward.
You can check with your city or county development authority to learn about your area's unique requirements.
Review Any Special Location Restrictions
Certain locations may also impose unique restrictions on building a pool on your property, even if you own your home and land. For example, your yard may be in a protected area, such as a wildlife refuge or a research protection zone. You may need to take additional steps before you get the green light to install an in-ground pool in these cases. There may also be other restrictions concerning where you can place your pool and how big it can be.
Another factor to consider is whether your home has been designated as a historic site or is part of a historic district. There could be specific policies concerning pool installation for historic homes or neighborhoods, and you may need to get approval from a committee before moving forward. 
Confirm Any Pool Enclosure Requirements in Your Area
Pool enclosures are an essential part of pool ownership. They help to keep out trespassers and may prevent others from accidentally falling into the pool. In many cases, your home insurance provider may require you to install an enclosure, such as a locking fence or a pool cover.
You'll want to find out about these requirements ahead of time to include them in your pool installation budget. Contact your local city or county office for guidance, or check with your insurance agent for more information. At the very least, you may get a little more of a favorable insurance rate if you have your pool adequately protected.
Determine if There's Enough Room for Pool Construction
Many homeowners don't account for when sizing up their space is determining how the pool installation company will get their equipment in and out. Installing an in-ground pool requires sizeable heavy machinery, and going through your front door isn't an option. 
You may have to remove a section of the fence to allow access for equipment and replace it when your pool installation is complete. If this isn't an option, your pool installers may have to use smaller equipment, which can take longer to complete the job.
Decide How Big of a Pool You Can Afford
It's essential to take care of all of the above considerations before you settle on a size for your new swimming pool. The above factors will influence the pool size because they impact pool placement, building costs, and other requirements.
Once you know where you can place your pool and how much it might cost to build (including additional costs like fencing, pool covers, grading, retaining walls, and fence removal), you can better inform your decision on size.
The costs of installing an in-ground pool can vary depending on several factors, with size being one of the most significant factors. At a minimum, an in-ground pool with a basic patio surrounding it will cost around $20,000 and go up from there. Consult with a Splash Pools expert to provide a more accurate estimate based on your property space, desired pool size, and other requirements.
Discuss Pool Financing Options
One of the most important steps when getting an in-ground pool is exploring your financing options. Many people choose not to pay for the pool's entire cost upfront and finance their purchase instead. This gives them more flexibility in their pool budget and potentially get more features than if they had to pay the whole amount out of pocket immediately.
Choosing your pool size first can help you determine how much financing you need. It's essential to know how you plan to pay for your pool before making a down payment. Once you secure financing, you're one step closer to owning the pool of your dreams!
Map Out the Timeline When Planning a New Pool Build
Planning a new pool build brings several additional considerations to the forefront. Once you've checked the boxes on each of the above priorities, you should start thinking about the best time of year for planning your installation.
Keep in mind that the time to install an in-ground pool from start to finish can take as long as three months, and that's if everything goes swimmingly. If your pool build runs into any unforeseen problems, it will naturally take longer. Following the above tips can help you mitigate these circumstances, but keep in mind you may not be able to prevent every issue that could delay your finished project.
The best time to start installing your pool is several weeks before summer. This way, as soon as the warm weather hits, you'll be ready to don your swimsuit and enjoy your brand-new pool. 
Ready to start planning a new pool build? Reach out to Splash Pools today and let us help create an oasis that you'll enjoy escaping to.