As the premier pool builders in DFW, we know there's something special about looking into your backyard and seeing the shimmering sparkle of a custom swimming pool. It makes going to work each day a little harder because your own home is every bit as relaxing as a vacation resort.
At Splash Pools, we've been building one-of-a-kind swimming pools for Dallas and Fort Worth homeowners for more than 20 years. We bring years of industry experience and expertise along with all the latest construction tools, technology, and features to create the pool you've always dreamed of.
Adding a custom swimming pool to your Dallas or Fort Worth home isn't just about making an addition to your property ― it's about investing in your lifestyle. Come home to your custom swimming pool that will turn your backyard into an oasis worthy of indulgence.
The Benefits of a Custom Swimming Pool in Your Backyard
The Dallas and Fort Worth homeowners we've worked in the past have a multitude of reasons and priorities when it comes to choosing a custom swimming pool. Here's a closer look at some of the benefits you might expect when you invest in new pool construction:
Improve Your DFW Home's Appeal
A swimming pool adds instant attraction to your backyard. Think about it: have you ever seen a backyard in Dallas or Fort Worth that didn't look better with a pool in it? Typically, most homeowners don't stop with just a pool. They also add unique landscaping and features to complete their backyard oasis for a total transformation. 
These upgrades are hard to ignore, and you'll appreciate how the fine details work together to create a high-end vibe in your backyard. And even though swimming pools are relatively common in DFW neighborhoods, they're still an excellent way to get your home to stand out, especially when it comes time to sell.
Boost Your Healt and Wellness
Swimming is a no-impact exercise and is ideal for improving your health and wellness at home. It's great for cardio, but you can also do aqua therapy using weights and body wraps for strengthening exercises. Many people prefer swimming to running because they are continually refreshed, whereas when you finish a run, all you want to do is jump into a swimming pool! Many of our customers have installed swimming pools to build more muscle strength, stamina, and endurance. For many, swimming can be highly therapeutic, both physically and mentally. A quick swim is often enough to take your mind off your troubles and into a stress-free state. 
Spend Quality Time with Family and Friends
As the old saying goes, "He who has the pool hosts the party." Okay, we made that up, but the sentiment behind it couldn't be more accurate. Pools are excellent gathering places for families and friends to hold special events and make lasting memories. For DFW homeowners, pools are a common theme for birthday parties, cookouts, and even staycations. 
Many of our customers with small children invest in their swimming pool to teach their kids to swim. This is a valuable life lesson for anyone of any age, and having the convenience of your pool gives them all the opportunity they need to practice. 
And if you have older kids or lots of friends, your home becomes THE spot to hang out. Maybe your kids will stay home more often. Or maybe you'll enjoy spending more time at home instead of going out in the city. Anything goes when it comes to having your swimming pool.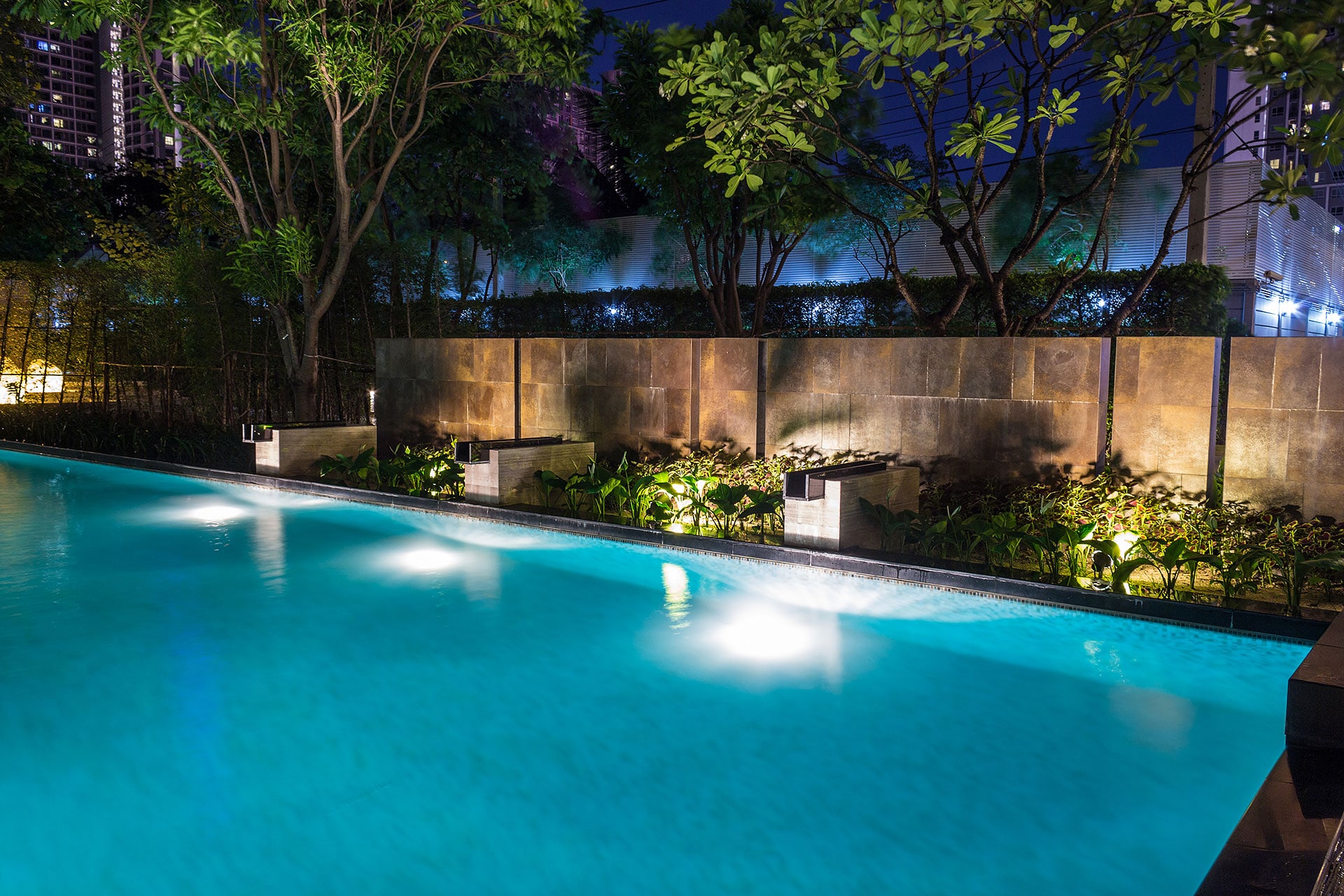 Indulge in a Relaxing Environment
Some people like to jump headfirst into the water. Others are satisfied merely being near the water and never setting foot in it. Of course, there are lots of people in between, and whatever your preference, you'll find that relaxing at home takes on new meaning when you have your pool.
Studies have shown that swimming has a positive effect on mental health. 68% of survey respondents mentioned that being in the water helps them feel good about themselves, while 74% agree that swimming helps them relieve tension, stress, and anxiety. And since it's a low impact activity, it can relieve pressure from the body and let you feel like the weight of the world has been lifted. How's that for relaxation?
Enjoy Year-Round Recreation
In Dallas and Fort Worth, year-round pool usage isn't just doable; it's very common! Our custom pool builders in DFW can outfit your swimming pool with heaters and other features that will make it enjoyable no matter the time of year. This gives you more time and more ways to enjoy your pool and allows you to stretch your investment even further. 
Get All the Features You Want in a Swimming Pool
When you choose a custom pool design rather than a one-size-fits-all pool, you can get all the features and functions you want from a pool without compromise. Custom swimming pools are designed for your unique landscape and space availability, which means your pool will always look great in your backyard. You can tailor every detail to match your style, from the tile color to water slides and caves to the patio and landscaping surrounding it. 
Trying to add features to a pool that's already been installed can be costly and complicated. It might require more construction than you initially thought, and in some cases, some features simply can't be done on a retrofit project.
That's why we recommend going custom from the start. You'll have the best opportunity to design the pool that fits your needs and lifestyle from Day 1 and start enjoying your new pool the moment it's filled with water. Talk to our expert pool builders in DFW about your dream pool and goals.
Why Build a Custom Swimming Pool for Your DFW Home?
Custom swimming pools go beyond the basic rectangle. As the best pool builders in DFW, we know the only real limit is your imagination! 
Our customers have different needs when it comes to beautifying their backyards. That's why we approach each pool project with your home and yard's unique aspects in mind. We consider the size and shape of your space and how your new pool will add to the overall landscape design. We use these things to make recommendations for your total pool experience because we want you to enjoy your decision for years.
When you choose a custom technique, you get creative freedom over your pool's size, shape, and style. Want a water slide or diving board? We've got you covered. Want to include a spa with your pool? No sweat! Need a retractable pool cover to keep out debris when you're not using the pool? We can do that too!
When you have total design control, your swimming pool becomes so much more than a place to swim. It also serves as a place where health, wellness, and socializing meet, a destination you'll want to escape to every day. Our pool designers at Splash Pools DFW have the creativity, skills, and tools needed to bring your pool goals to life.
Custom Pool Builders DFW: Our Process
Ever wondered what it takes to get a custom swimming pool at your Dallas or Fort Worth home? Here's a look at our process here at Splash Pools:
When our pool builders in DFW begin a new pool project, we consult with you to discover your needs, preferences, budget, and other expectations for your pool investment. We'll also examine your site to understand your existing landscape and uncover any potential challenges we might encounter in your project, such as overhead power lines or fencing. 
Once we've discussed your goals, we will design your custom pool based on your vision. We have a complete team of designers and architects in-house that handle each of our projects and work with you to create the best concept for your needs. We'll map out the pool placement in your yard to make sure the location suits your needs. We'll also do a 3D rendering of the project and revise it as many times as needed to earn your approval. 
Once the design concept is approved, we can schedule our team and equipment to begin construction. The exploratory and design stages usually take about 1-2 weeks, depending on how many revisions to the design are needed.
New Pool Site Prep & Construction
The first step in our new pool construction phase is digging your new swimming pool. This is often the most exciting time for families (especially children) as they get to see the heavy machinery in action at your home and watch your new pool take shape.
This portion of the project can take up to two days, but it could be longer depending on your pool size, location, permits, and other factors. Our digging crew works hard during daylight hours for minimal disruption to your home routine.
Once the shape of your pool has been dug, our pool builders in DFW begin reinforcing the shape with steel. Many families love watching this process of bending and shaping the steel to fit your pool. This phase is usually completed within the second or third week of the pool building process. During this period, we'll be installing the plumbing for the pump, filter, and any other features you've included (e.g., water jets, fountains, etc.).
The next phase is to pour the pressurized concrete and allow it to set. This process usually takes three days plus drying time. Because we require dry conditions for this process, we keep a close eye on the local weather to ensure that even brief rain showers aren't on the radar.
We sculpt and perfect your pool from the inside out, taking care to look for imperfections or inconsistencies in the interior as we go to ensure a flawless final product. Tiling the inside of the pool usually takes about a week, while finishing the interior adds another three to four days to the project.
Decking Your New Pool Area
The pool decking phase requires a separate crew. This is the phase where the crew connects your filter, pump, and heating equipment. Most of the construction has been completed at this point, and your pool is starting to look like a pool! 
Once the pool's interior has set, and all of the electrical work and plumbing connections have been made, it's time to fill your pool with water. This is an exciting time for new pool owners because it won't be long before taking your first swim. 
Our pool builders in DFW enlist our startup technician's help to test the pool pump, filter, lights, and any other features you've added to your custom pool. Our tech will also give your pool a thorough cleaning to get it ready for your first use. 
After the cleaning, we'll add pool chemicals to balance the water. Preparing the water can take a few days, and the process may be delayed if it rains (rain can upset the balance of the water). We will test the water to ensure a proper pH before you use it. 
Finally, we'll work on your poolside decking and landscaping to complete the final look. The time it takes to complete this phase can vary from project to project, as the project's materials and complexity will depend on the homeowner's choices. 
What Else to Know About Our Process
Regardless of the choices you've made for your pool, we will provide a detailed timeline for each phase of the project before beginning work. We believe in transparency and want to keep you informed throughout the process. If there are any project delays or a chance to get ahead of schedule, we will communicate these changes with you and revise our timeline. 
One thing to keep in mind is that while we're the expert custom pool builders in Dallas / Fort Worth, some things are outside our control, including the weather or delays in delivery. We do our best to mitigate all issues and even plan for weather delays in our timeline, and any deviations from the plan will be discussed with you. Our goal is always to underestimate and overdeliver so that you can start enjoying your pool sooner than you think. 
Types of Custom Pool We Offer
As the expert pool builders in DFW, Splash Pools focuses on 100% custom pools made to fit our customers' home and landscape. Our pools take a variety of shapes, sizes, and styles, including:
Standard family swimming pools
Freeform swimming pools
Infinity edge pools
Zero depth entry pools
Indoor swimming pools
Lap pools (also called endless swimming pools)
Plunge pools
Spa pools (also calls spools)
 Our goal is to tailor your swimming pool to your needs and budget and help you get the most from your pool investment.
Pool Builders DFW: Getting Everything You Want in a Pool
When it comes to making your custom pool indeed yours, Splash Pools offers various unique features and accessories that can make your pool stand out. Consider adding one or more of the following features to your new pool construction project:
Custom pool lighting is a must for evening get-togethers and night swims. Our pool experts can integrate remote-controlled lighting into your pool to light up the water and create soothing effects. 
Enjoy your pool all year long when you install a pool heater. For the most part, Dallas and Fort Worth have dry winters, so all you need is for the water to be warm enough to get more from your pool year-round.
Waterslides are perfect for swimmers and splashers of all ages! We can integrate your waterslide to make it look like part of your pool, or we can include a stand-alone water slide for hours of entertainment!
A classic pool element, there's nothing like a water fountain to add luxury to your custom swimming pool. Give your pool an instant resort-like look and feel and enjoy the sound of bubbling water while you're catching some R&R.
Waterfalls in a pool serve multiple benefits. For starters, they're a great way to cool off quickly on a hot Texas summer day. Plus, they add mega style points to any landscaping.
Our custom pool builders can add a small ledge around the pool perimeter for a perfect spot to sit and dip your feet. Or, we can add a larger shelf big enough for a few lounge chairs to bring you into the water while you bronze in the sun. 
Grottos are unique, cave-like structures that include a waterfall over the opening, and you can swim under them! Depending on the size, you may even add a secret seating section or other features.
Pool Bar & Pool Bar Stools
If you want to turn your DFW home into a friendly watering hole, consider adding a swim-up pool bar with integrated bar stools. Our experts at Splash Pools can include a bar setup and make it easy to enjoy a drink or a snack without leaving the water. 
Spa pools, or spools, integrate a hot tub with the swimming pool to make it one interconnected amenity. The pool and hot tub can exist on different levels, or you can opt for a more integrated flatter design.
Fire pits, fire bowls, torches, and other fire features create a beautiful balance of two powerful elements. A little fire can be perfect for winter swims, plus it helps keep the bugs away so you can swim uninterrupted.
If you have a small space and want to maximize your seating area, consider adding a small island to your pool accessible by a bridge. The island can be home to lounge chairs, a pergola or gazebo, or other features that give you more places and more ways to socialize or relax.
Dallas and Fort Worth are hours away from a beautiful beach, which is all the more reason to bring the beach to you! We can design a zero-depth custom beach entry that's every bit as good as being at the ocean.
One of the benefits of custom pool building isn't just about getting everything you want in a pool, but also about maximizing your backyard value. We can help design custom seating areas that allow everyone enough space to relax and enjoy the scenery.
Custom Rock & Tile Designs
Adding natural and rock to your custom swimming pool is a creative exercise in nature. Our team can source beautiful tile and rock to develop a natural look as though Mother Nature herself made your pool.
How to Find Reputable Custom Pool Builders DFW
"Alexa, find pool companies near me."
Splash Pools has been the Dallas – Fort Worth custom pool builders of choice for two generations. We have the tools, experience, and design thinking needed to bring your project to life and the reputation in our community that makes us a trustworthy choice. We have completed hundreds of custom pool builds to date and have many customers who will gladly refer our services to you.
We serve the entire DFW metropolitan area and surrounding communities with high-quality custom pool design and construction services. Let us put our expertise and reputation to work for you!
Contact Splash Pools today for a free consultation and design quote!