Custom Swimming Pools in Dallas, Texas
Trust our new pool construction experts to build the Texas-worthy pool of your dreams.
There's no doubt that swimming pools make an exceptional addition to your home in Dallas, TX. If you really want to boost the wow factor, then a custom swimming pool from Splash Pools is the way to go.
When we say custom pool, we mean it in every sense of the word. We can provide all the inspiration you need to inform your design choices, but ultimately you have unlimited creative freedom when it comes to choosing the size, shape, style, materials, and features of your new swimming pool.
Our goal is to make your pool the coolest spot on the block, a place where you can escape to beat the Texas heat and dive into the ultimate relaxation. Get ready to make a splash in your neighborhood!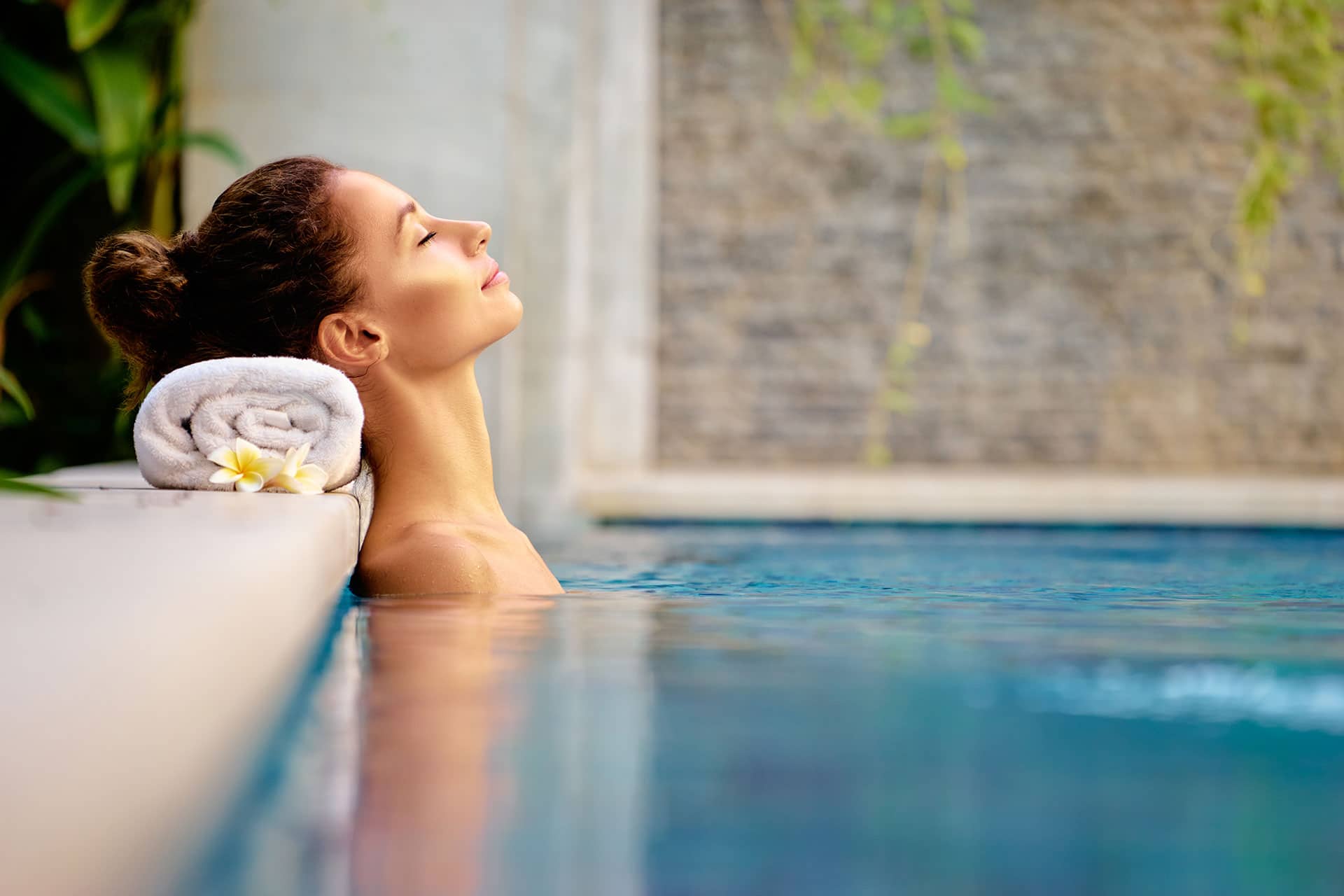 New pool construction in Dallas, TX
One of the most exciting decisions you can make as a homeowner is to decide to invest in a pool. Our knowledge, expertise, and commitment mean that your pool will be your personal style statement – whether you want a pool to stay fit or you just want an exquisite utopia. You can rely on us to build you a custom pool that is safe and welcoming. Each pool we construct is tailor-made with the latest materials and technology. Our team of experts will assist you in selecting the style of pool that is right for your needs and space.
Why Build a New Custom Pool?
Homes in Dallas, Texas, genuinely live up to the "Everything's bigger in Texas" motto, and there's no better way to complement your space and make it truly unique than a custom swimming pool. Consider the reasons why our hundreds of customers have opted for a custom option.
One of a Kind Designs
Something is alluring and unique about the custom element. Instead of going with a basic rectangle, you can get a pool that's made specifically for your space. It's the ideal solution for oddly-shaped lots or other design challenges that may have prevented you from installing a pool in the first place.
At Splash Pools, we are custom pool builders, and we know that cookie-cutter won't do. Instead, we believe that a pool is your chance to show off your home's personality and your own style choices. Plus, you'll have something special to show off to your family and friends they've never seen anywhere else.
Get Everything You Want in a Pool
Many homeowners in Dallas choose to get a custom pool because home is where they spend most of their time. The right swimming pool can help them love their home even more and enjoy endless opportunities to host family and friends in their space.
Therefore, it makes sense to get everything you ever wanted in a swimming pool. From slides to spas, waterfalls to water fountains, there's no reason why you should have to settle for less than the best.
Type of Custom Swimming Pools We Offer
Our team has experience in building a range of swimming pools, including:
Infinity edge pools
Family swimming pools
Indoor swimming pools
Lap pools

Freeform pools

Plunge pools
Spools (spa pools)
No matter the type of pool or feature you want to add to your backyard, our team services the entire city of Dallas. If you're not sure of where to begin, let us help you explore your options to help you get the ultimate swimming pool.
Custom Pool Features for Your Dallas Oasis
At Splash Pools, our new pool construction experts stay ahead of the industry and bring the latest designs, features, and innovations to our customers. Here are some of the cool custom pool features we've incorporated into past projects that might inspire your own design:
Water Slides
Our pool building team can add a waterslide with your pool for unlimited fun. Or, you can opt for a slide that looks like a natural part of your swimming pool and turn your backyard into your very own waterpark.
Water Fountains and Waterfalls
Adding a waterfall or fountain can make your pool even more refreshing. We can create a wide variety of sizes and styles to fit your design.
Integrated Hot Tubs
Consider adding a hot tub to your custom pool experience. We can combine your hot tub and pool into a single structure for a high-end, spa-like look and feel.
Fire Features
Fire bowls, fire walls, or fire pits alongside your pool is a beautiful blend of two elements. These add aesthetic beauty and help you maximize your outdoor living space even more.
Grottos
A grotto is a unique rocky waterfall with a small cavern underneath that's big enough to swim in. Depending on your pool, this could be perfect for including seating, fun lighting, or even a therapy spa.
Tanning Ledges
Also called a baja shelf, tanning ledges are small ledges within the pool that are covered by a few inches of water. We can incorporate a tanning ledge for people or even big enough for lounge chairs that will keep you cool as you bask in the sun.
Pool Lighting
Adding pool lights can help you enjoy your pool for a nighttime swim. We not only install pool lights during the construction process but can also add lighting systems so you can change the light colors or create programs.
Beach Entries
If you want to add a beachy vibe to your pool, consider a gently sloping beach entry (or zero entry) There's no sand involved, but rather the ease of entering your pool as though you were running straight into the ocean.
Why Splash Pools?
Our team has been a trusted pool construction company in Dallas, TX on its second generation of family ownership. Our team is trained and experienced in the complexities of custom pool building and know-how to help you get the most from your investment.
We pride ourselves on offering personalized service to each of our customers, providing guidance throughout the process, and taking into account your specific needs and desires. Our goal is to make the process as stress-free for you as possible with minimal disruption to your daily living as we complete the construction.
Whether you're in the marketing for a simple pool or an over-the-top custom design loaded with fun features, we're here to serve you.
The Only Limit is Your Imagination!
Our custom pool services in Dallas are the perfect addition to your home. Contact us today, and let's start dreaming together!