New Custom Swimming Pools in Carrollton, TX
Let our Carrollton, TX swimming ​pool experts create a custom swimming pool you'll want to enjoy year-round. There's nothing more invigorating on a hot Texas summer day than a dip in the crisp, sparkling water of your own swimming pool. If you really want to make a splash at your home, then a pool built and installed by Carrolton's top swimming pool company Splash Pools is a refreshing way to go.
You won't find any one-size-fits-all pools here. We take our responsibility as custom pool builders seriously, which is why we work directly with each homeowner to design the pool of their dreams. Whether you've been fantasizing about your own swimming pool for years or you've only recently fallen in love with the idea, our team can help you explore your options for size, shape, materials, and features.
Our goal is to transform your backyard into a resort-worthy masterpiece that will make every day feel like you're on vacation. Get ready to dive into your very own custom swimming pool with Carrollton's pool design artists!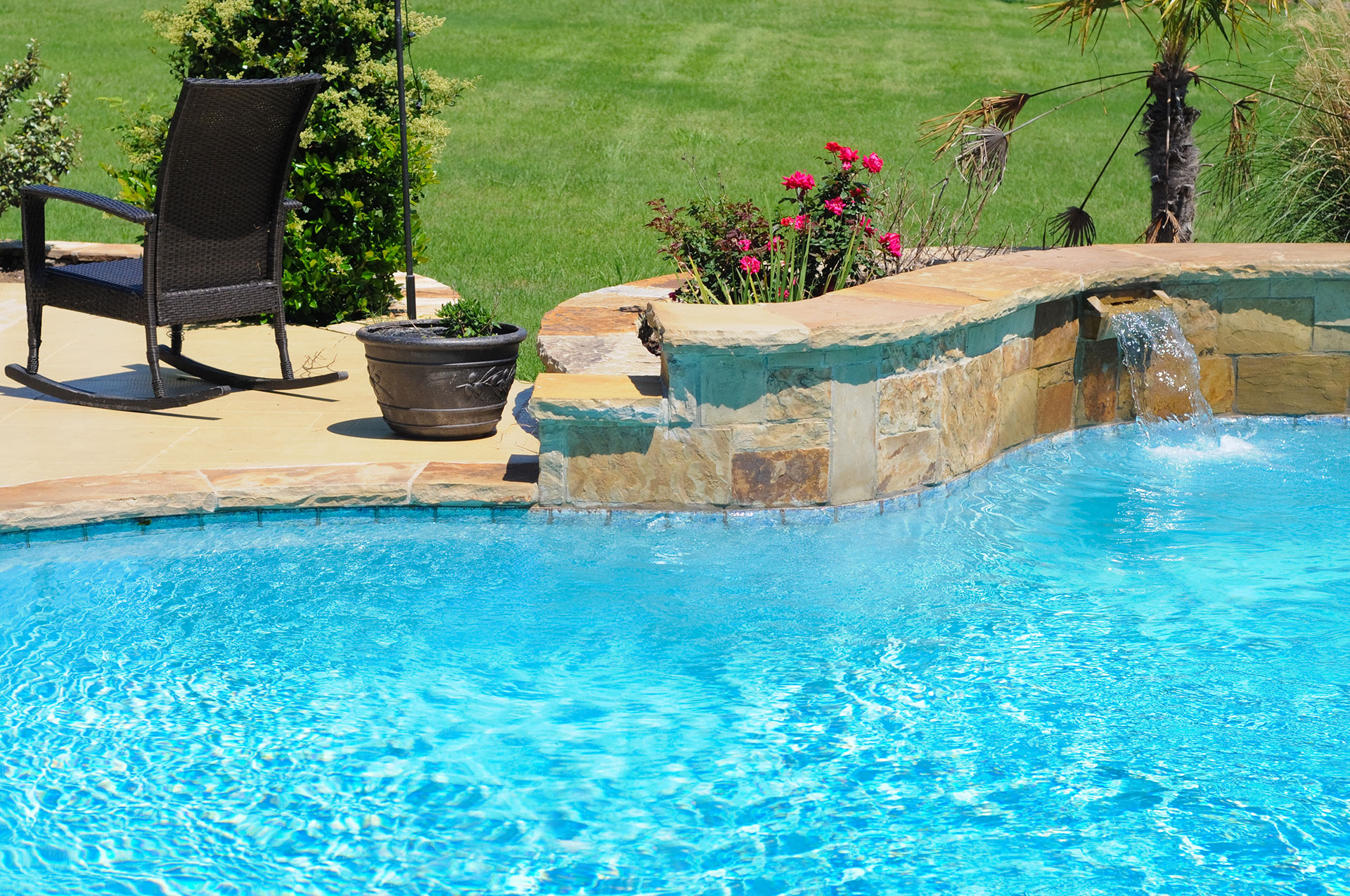 Why Homeowners Should Consider a Custom Swimming Pool in Carrollton, TX?
Your home is your castle. It's a place where you spend your free time and make memories with loved ones, and a custom swimming pool can help make every day at home a new adventure. Here's why we're the preferred choice for custom swimming pools in Carrollton, TX:
A One-of-a-Kind Pool Made for You
Unlike prefabricated pools or basic designs, our custom swimming pools are specially designed with you and your home in mind. We take your home's unique terrain and aesthetics into account, along with the features and ideas you want to bring to life. From there, we go to work designing a pool you won't find at any other home or hotel anywhere else in the world. It's truly yours in every sense of the world.
Your Pool, Your Way
If you want to incorporate specific colors, textures, tiles, or features, your wish is our command. Our customers in Carrollton, TX choose our swimming pool company because they can get exactly what they're looking for in a swimming pool, and that goes a long way in how much you're able to enjoy your investment.
The Best Custom Swimming Pools in Carrollton, Texas
Custom swimming pools come in different styles, and our team has the experience and skills to build them all. Choose from:
Lap pools
Spa pools
Indoor pools
Family swimming pools
Free-form pools
Plunge pools
Infinity edge swimming pools
Zero entry pools
Need some inspiration? Our designers can walk you through some of our past projects and other options to help with designing a pool you're sure to fall in love with.
Custom Features for Your Pool in Carrollton, TX
One of the best parts about building a custom pool is creating the unique features you want to enhance the experience. Here are some ideas to get you started:
Waterfalls and Fountains
Adding a fountain or waterfall to your custom swimming pool adds a tropical dimension to your oasis. Plus, they can give you that refreshing burst of energy on the hottest days.
Water Slides
You're never too old to zip down a water slide! We offer unique water slides in different lengths, heights, and styles, and can even make your slide look built into your pool.
Tanning Shelves
Some people call it a Baja shelf, but whichever term you prefer, this feature is a favorite among Carrollton pool owners. This shallow shelf is integrated into your pool and is slightly submerged in water, making it an ideal spot for a lounge chair or for when you want to get wet without getting in.
Beach Entry
Almost as good as the beach itself, our gently sloping beach entry lets you ease into the water. Also called a zero-entry, this is a favorite feature among families because it's kid-friendly.
Integrated Hot Tubs
You don't have to choose between a pool and a hot tub. We can combine them into a single structure so you can indulge in the best of both worlds.
Pool Heaters
Swimming in Carrollton, TX year-round, is a possibility if you install a pool heater. That's one way to get even more use from your custom swimming pool!
Grottos
A custom grotto with a waterfall is a hidden gem in your own backyard. Get creative by adding seating or lighting for a whole new way to enjoy your pool.
Fire Features
Fire bowls, fire pits, fire walls — fire features are a great way to compliment your custom pool! Plus, these features also make for stunning backyard decor.
Pool Lighting
For night swims and evening gatherings, pool lighting is a must. Our pool lighting options can be programmed for specific schedules or controlled via remote or app.
Splash Pools: Your Local Carrollton, TX Swimming Pool Company
Splash Pools has been designing and building custom pools in Carrollton, TX for more than two generations. We started as and remain a family-owned business that delights in helping other families create the backyard oasis of their dreams, a place where you can make fond memories with your kids and grandkids.
Our entire team is trained and experienced in the most complex challenges of custom pool construction. We've encountered just about any issue you can think of (and countless others) and have developed creative solutions to make your pool ownership dreams a reality.
We take pride in working directly with each customer to deliver personalized recommendations and service throughout the process. Our designers take all of your ideas and translate them into a custom swimming pool worthy that will best complement your home. We aim to make the entire experience as stress-free and hands-off for you as possible, including minimizing as much disruption to your daily living as possible during the construction.
We're ready to partner with you to create a water-filled wonderland you can be proud of for years to come!
The best time to install a custom swimming pool at your home in Carrollton, TX is today. Reach out to Splash Pools to get started at 844-977-5274!