Custom Swimming Pools in Burleson, TX
A custom swimming pool can perfectly complement your backyard and help you enjoy every moment you spend in your home. After all, a swimming pool is a place where the best memories are made and where family and friends come together to share laughs, good times, and great meals. If you're a resident in Burleson, TX our swimming pool company can give you what your backyard has been missing, a custom pool from Splash Pools is calling your name.
We design and build custom pools of all shapes and sizes. Our design team works with you directly to help you explore your options when it comes to materials and pool features. Still, you also have the freedom to influence the design with your own creativity and imagination.
Our goal is to create a custom pool that you'll want to use every day. We'll help you transform your backyard into an oasis where you can escape and relax and leave the rest of the world behind.
Let our pool artists design, build, and install a custom swimming pool for your Burleson, TX home.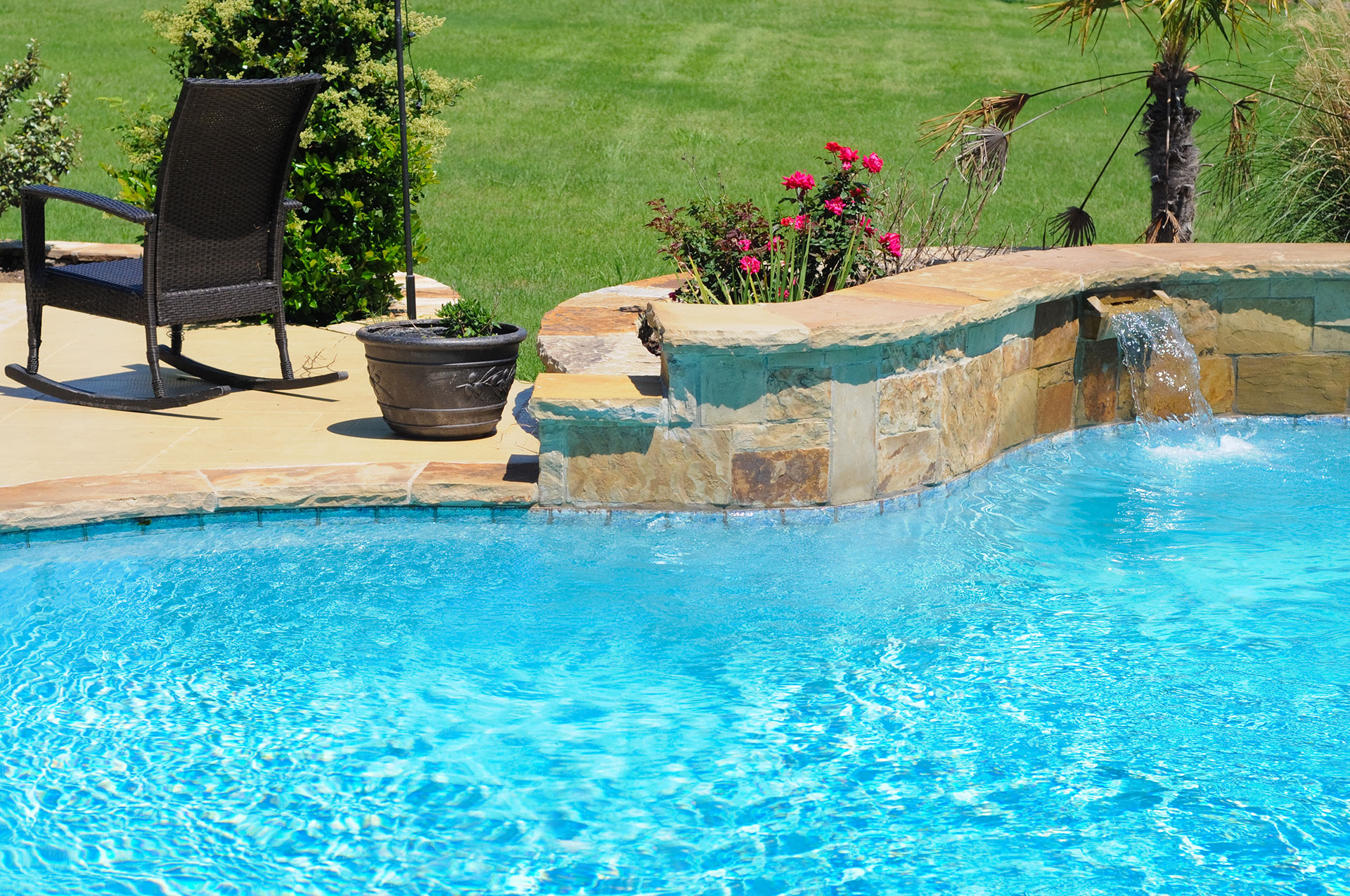 Why Build a Custom Swimming Pool in Burleson, Texas?
At Splash Pools, we know that every customer has their own priorities when choosing a custom swimming pool for their Burleson residence. But we also agree that there's no such thing as a bad reason to want your very own pool.
Here's why we've built and installed several custom pools in Burleson, Texas and surrounding areas for homeowners like you:
No Two Pools are Alike
When we say custom swimming pools, we genuinely mean it! Every pool is designed from scratch based on your unique preferences and your backyard's size and layout. And because we take a custom approach, you get a one-of-a-kind pool made specifically for your home — no other swimming pool company in Burleson can compare!
Pools that Fit Your Lifestyle
Getting a custom pool means getting the features that matter most to you. Some of our customers want a pool for exercise, such as a small, low-maintenance lap pool. Others want a large, deep pool that's ideal for entertaining their family and friends. No matter how you choose to use your pool, our custom approach ensures you get a swimming pool that fits the way you live.
Best Custom Swimming Pools for Your Burleson Home
Our team of seasoned pool professionals has the skills and experience to build a variety of pool styles, including:
Indoor swimming pools
Family pools
Lap pools
Infinity edge pools
Spa pools (spools)
Plunge pools
Freeform swimming pools
No matter the size, shape, or style you want, our custom pool designers in Burleson work with you to choose the best design and features for your pool. If you're not sure where to start, we can also help provide inspiration.
Add Custom Pool Features for a Better Experience
Take your custom swimming pool to the next level with resort-quality features guaranteed to make a splash! Here are some of the top features our customers love:
Waterfalls and Fountains
Pool waterfalls and fountains aren't just for luxury hotels. They can be quite refreshing on hot summer days and add more enjoyment to your pool.
Water Slides
Water slides are a fun pool feature for kids and adults alike! We offer custom pool slides in a variety of heights and configurations, and can even make your slide blend in with the scenery.
Integrated Hot Tubs
Building a hot tub into your pool setup can give you the best of both worlds. The result is a high-end, spa-like look and feel that's perfect for parties or catching up on some R&R.
Tanning Shelves
Tanning shelves are small ledges integrated around the edge of your pool. It's an excellent way to stay cool while you bake in the hot.
Zero Entry
For a gradual sloping entry, our zero-entry pool feature will make you feel like you're at the beach without the sand, of course. Walk right into the pool with no steps to get in your way.
Pool Heaters
Want to enjoy your custom swimming pool all year long? Let us install a pool heater that can keep your water at the ideal swimming temperature.
Grottos
Maximize your pool waterfall with a grotto — a little niche behind the waterfall that feels like a tropical escape. Depending on your pool layout, you may be able to add seating, lighting, or even speakers under your grotto.
Fire Features
Add a little heat to your swimming pool with fire bowls, fire pits, or other fire features. They blend the best of fire and water and even double as backyard decor.
Pool Lighting
Fancy a night swim or evening party? Let us integrate lights into your pool that will add to your overall ambiance. Our pool lighting systems can be controlled via remote or programmable schedules.
Why Work with Splash Pools?
As a second-generation family-owned Burelson swimming pool company, Splash Pools knows what it takes to go from a custom pool concept to a fully functional swimming pool. For years, we've made it our sole mission to create beautiful, enchanting pools for homeowners that will allow them to enjoy their home even more.
We work directly with each customer in Burleson, TX starting with the concept and design process to ensure we're on the same page about the type of custom pool you're looking for us to build. We can use your ideas and imagination with our pool-building expertise to develop a custom pool solution that works for your unique layout.
And once construction begins, we take care to minimize disruptions to your daily living and keep you updated every step of the way. It's this high-level personalized service that makes us the best choice for custom pools in Burleson, TX and surrounding areas.
Ready to dive into a custom swimming pool at your home in Burleson, TX? Reach out to the pool experts at Splash Pools today at 844-977-5274 and let's start designing!.