Summer is here, and you want to get off the couch and do something fun outside with your family. But what kind of activities would be fun in your own backyard? Kids, nowadays, are becoming lazy and spend more time on gadgets. Move your kids away from the screens and make them spend some time outside with you like the good-ole days. Spend some family time and kickstart the summer with these fun activities.
It's time to get all tangled up with your family, but this time in your backyard. Just spray paint the backyard like the twister game and let the fun begin. More space allows more players to play.
The best part of Yard Twister is that you can keep playing the game till the next time you mow the lawn.
Have some plastic bottles? Let's play bowling! Use the plastic bottles to make the bowling pins and use any ball around the house you want as the bowling ball. This game never seems to go out of style and is one of the easiest games to
set up. The game can be more fun by making it a night time game. All you have to do is use glow sticks.
Pick-up sticks is an entertaining game which can also check your child's motor skills. The rules are simple:
a.) Pick a stick from a pile of sticks without moving any other sticks, or else you do not get a point.
b.) Different color sticks have different points.
Don't forget to color one stick black, which would be the "moving stick."
We all agree that summer and water is one of the best combinations. Now let's twist the old game of Pinata a little. Instead of the old candy horses, use water balloons. Hang them, and you are good to go.
Just to make it more competitive and fun – set a timer. Whoever takes the least time to burst the maximum balloons blindfolded, wins. Also, you can make your own rules to make it more interesting.
This game requires little preparation and is a lot of fun.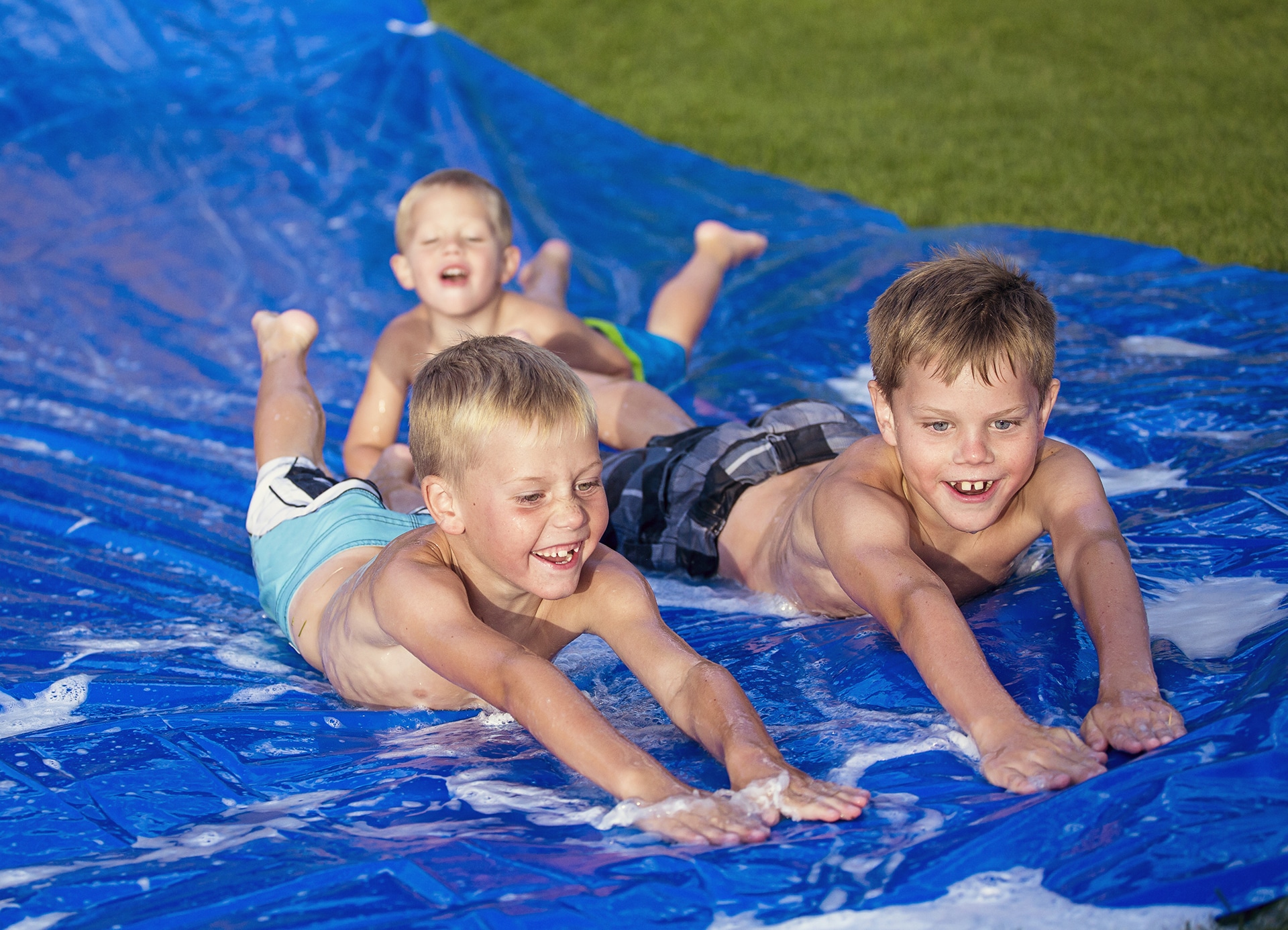 We saved the best for last. This one entails a little more preparation than the rest of the games, but it is definitely worth trying. This requires tarps,  water, and some dish soap.
Lay out your tarp(s) in the yard, preferably on a slope if your yard has one. If using more then one tarp, overlap like roof shingles so that you aren't sliding into the overlap but rather over it. You may need to duct tape the to tarps from underneath. Once you have the tarps laid out like you want, add some water and dish soap and have some fun! You may need to weigh the tarps down with something such as sandbags but be safe as you don't want to slide into something that would hurt. For safety purposes, spread the tarps long enough to avoid any scratches or injury.
When done right, it is the most fun backyard activity. You can make it more fun by adding a pool at the end of the slide.
We hope these ideas bring some extra fun this summer and hopefully get you thinking of some other outdoor activity ideas for your family. Enjoy and stay safe!